Support our research to tackle a global health threat from fungi
what is the fungal threat?
Fungal infections kill more than 1.5 million people every year, most of them in low income countries. That amounts to more than are killed by malaria, or breast cancer, and almost as many as those claimed by HIV or tuberculosis. In spite of this, Medical Mycology (the study of fungi) is among the most neglected fields in medical practice.  
what are we doing?
Our AFRICA Unit, a joint collaboration with the University of Cape Town, and the world's first international research centre for tackling fungal infections, is focussing on invasive and life-threatening fungal infections that affect people with HIV. This includes cryptococcal meningitis, a life threatening brain infection, which causes around 20% of all HIV related deaths in the world, with a mortality of 70% in Africa. Pneumocystis pneumonia, another AIDS defining fungal infection, affects more than 400,000 people with HIV, of which an estimated half will die of the infection. Sadly, HIV-associated fungal infections are not decreasing despite improved antiretroviral treatment for HIV infection. The World Health Organisation has now recognized that if we are to further reduce HIV deaths, we urgently need to improve the treatment of complications such as cryptococcal meningitis.
why are we fundraising?
One of the barriers to tackling HIV deaths from fungal infections in Africa is the lack of opportunity for talented African scientists and doctors to study and understand medical mycology. We want to change this.
Many of the symptoms of fungal disease can be difficult to identify without the right training, and so many treatable symptoms are left undetected, resulting in needless deaths. On our courses, participants learn how to spot the symptoms and then how to treat the infection as the first building block in developing the knowledge and capacity of scientists and doctors, vital if we are to reduce the unacceptably high death toll of these infections.
We offer MRes courses, PhD fellowships and short courses, which provide much needed opportunities for building capacity, sharing of knowledge and career development. But we need to raise funds to be able to offer this training to participants in Africa, which has a huge burden of deaths from HIV-related fungal infections.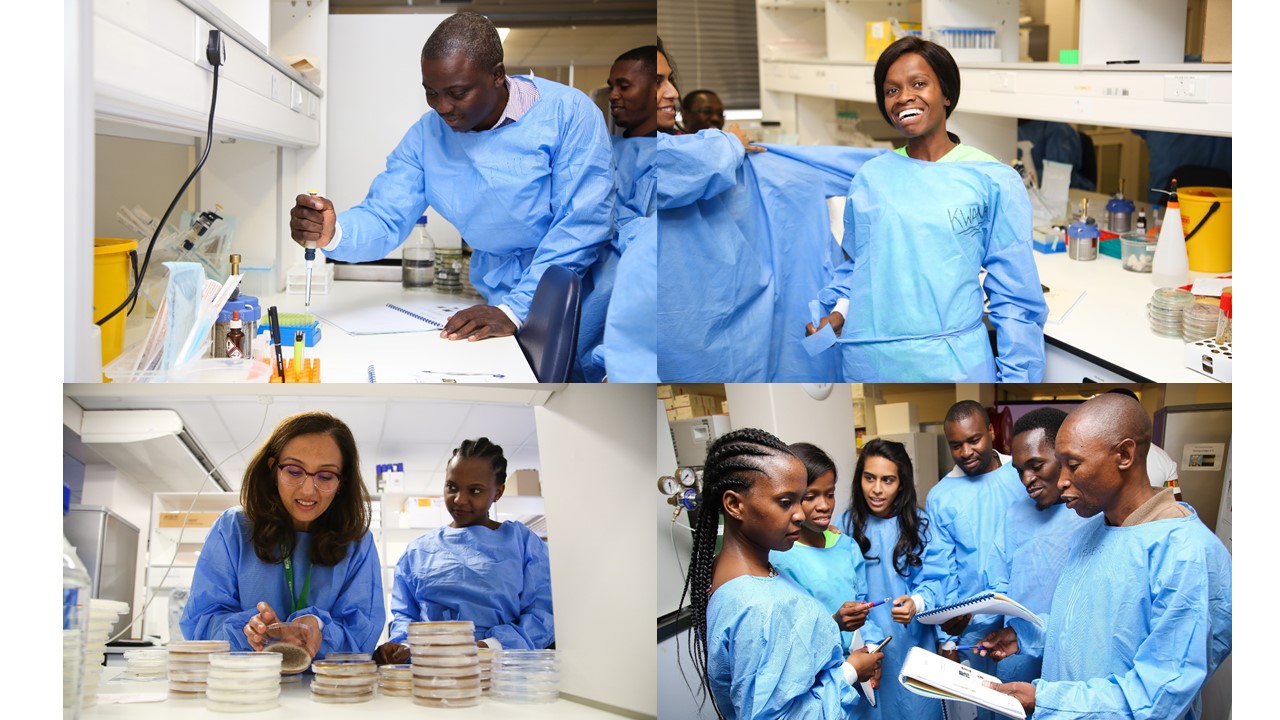 Please help us to train a new generation of scientists and doctors to tackle these infections and to find new treatments that can finally defeat these life-threatening diseases. 
Hear from the Centre's Dr Liliane Mukaremera about the impact of training opportunities for scientists and clinicians from Africa. Liliane was born and raised in Rwanda and experienced first-hand problems related to poverty and infectious diseases in Africa. One of her primary interests is the fungal pathogen Cryptococcus neoformans which causes meningitis, particularly in patients with HIV/AIDS, and results in around 130,000 deaths in Sub-Saharan Africa every year.
how you can help
Please help us to develop the expertise of other talented young scientists, like Liliane, essential if we are to fight this terrible disease.
Here's how your support could help us to change the story:
1. A workshop on medical mycology featuring world-leading specialists for 35 attendees from at least 14 African countries costs £70,000 to put on. If 100 people donated £20 each, that would cover the costs for one candidate from an African country to attend.
2. An MRes course for an International science graduate here in Exeter for one year costs £48,349. If 100 people donated £500 we would be able to cover the costs for a talented researcher to develop their expertise on a course that would otherwise be denied them.
3. Summer Scholarships for Exeter medical students to do an 8-week Research Project during their summer vacation at a partner International Laboratory (such as Cape Town/UCT) and gain valuable skills and insight in the field, cost £4,500 each. 
All donations, regardless of their size are appreciated as collectively they can be transformational.
Thank you for your support!
For more information please visit https://thefungalthreat.com/