Make a difference to those who cannot access legal advice and support in Exeter and beyond
The continuing impact of legal aid cuts and the lack of available services has resulted in a large number of vulnerable people being prevented from accessing justice in Exeter and the surrounding area. Many attempt to navigate the system on their own, putting them under immense strain with adverse effects on their health and wellbeing, and increasing the burden not only on the courts, but also the NHS.
Vulnerable individuals are becoming more vulnerable. The Community Law Clinic (CLC) opened in 2017 and is one of only a very small number of sources of free legal advice and support in the area and we are unable to meet the needs of everyone who needs our help. 
The South West - An 'advice desert.'
Exeter is in an area that has been identified by the UK Government Legal Aid Agency as an 'advice desert', devoid of a centralised organisation providing advice and services. There are no formal Law Centres and few sources of legal advice and support outside of the service provided by Citizens Advice, south of Bristol. This affects the support available to people across a geographically wide rural area, and help to independently resolve legal problems is limited. 
While we have a strong base of volunteer legal practitioners in Exeter, this is not enough to meet the number of referrals we are currently seeing from local organisations such as Citizen's Advice, particularly in employment and housing. It is difficult for individuals to access even basic information about their rights in relations to their jobs, their homes and benefits. The consequences are dire for individuals without this support or the right information. Without legal advice and information many of those in need of advice and support are getting no or wrong information and we see people who are in real danger of losing their homes or their employment and in many cases their benefits. 
Help the Community Law Clinic upscale its activity today to reach many more people that need their help.
The project needs just over £40,000 to run every year and we have already sought and secured £18,000 worth of funding - we now need another £22,000 to be able to run the clinic this year.
If we are successful any funding we receive over this target will be spent on the next phase of this project.
Why do we need your help?
Even through the COVID-19 pandemic we will offer services to those in need online and over the phone – so we need your help straight away! 
Phase One – Development of the Community Law Clinic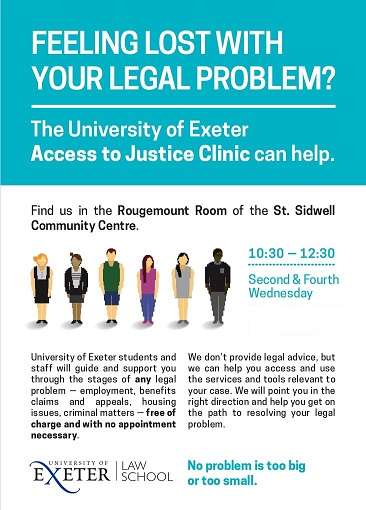 During the current pandemic we are unable to operate a face-to-face service and we have opened our services online and by telephone until we are able to offer face-to-face services once more. We have recruited more than 30 law students to work on the service over the summer.
Before the COVID-19 restrictions had been brought into place, about 150 students, 6 members of Law School staff and 40 volunteer solicitors saw approximately 25-30 clients per month in the CLC. It is hoped that this number of clients will be helped online and over the phone through the virtual clinic.
To improve access to the clinic and provide a permanent home for its services, the University of Exeter has identified a city centre location near St David's station and is looking to open after the restrictions have been lifted and students can return to Exeter to continue their studies.
Once we open 3 days a week in the city centre, we anticipate that we will see 10-15 clients per day, approximately 170 clients per month. We will plan to increase our student and staff numbers as we grow.
Key outputs in the first phase: • Recruit a qualified solicitor • Deliver 4 workshops on key housing or employment issues • Deliver 8 public education and information sessions on housing and employment rights • Distribute leaflets describing main housing rights with case studies • Work with at least 100 additional client sessions
Phase Two - Justice Lab
In the second phase the aim is to establish a more sustainable city-centre provision in Exeter that cements the original pop-up service. This will also provide a source of data and allow research and innovative solutions by working with a community of academics across the University and offer a suite of programmes for those who wish to work in public policy, law or data and innovation. The development of the Access to Justice Lab as a social enterprise would enable a range of students to gain an understanding of the cost of legal and community services and how to devise entrepreneurial projects to fund the legal aspect of the centre. This would operate as a module in its own right.
Second year outputs will be: • 12 education and information sessions on housing and employment rights • Operation of CLC 3 days a week • Enabling 10-15 client sessions per day (170 per month)
Who This Project will help
We know the impact that this work has already had on the students taking part and the individuals and families in Exeter and surrounding communities who have benefited from access to the clinic. This project will enable us to help and support many more students and clients than ever before.
What students say about the programme
''Thank you for the opportunity to work on this case, at first it was daunting but it was so insightful and interesting and has been enjoyable to have some real law to get stuck in to and to have your support and guidance to make it valuable."
What people we support say
"I would like to say the work I just received is outstanding, amazingly complete and will help us a lot for our project, so thank you so much for your help."
"Thank you both so much for your knowledge and time you spend on me … but what have you given me leaves me with a warm feel that The Law ,The Courts and Judges look at the fairness and justice … Receiving your letter today .....felt me with a worth and respect ."
Case Studies
Read about the clients that the clinic have helped in these case studies.
Where will the money go?
The Community Law Clinic has received £8,000 every year from the University since 2017 and we will apply for the same grant again this year. We also receive a great deal of support from volunteer law practitioners from the Exeter area in addition to law students. We have also received an additional one-off grant this year from the Provost's Fund of £10,000 which has enabled us to employ a co-ordinator (internship) for three months and covered some other costs.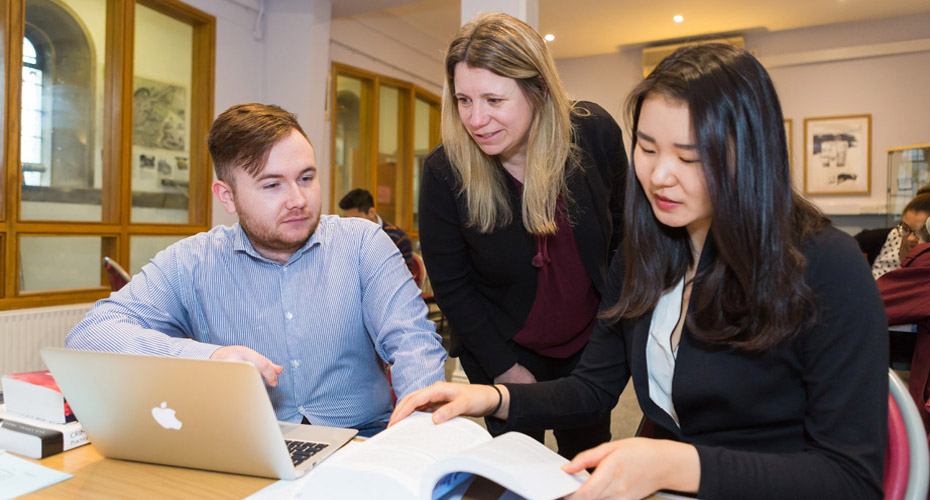 We need additional support to cover other costs and most importantly as a contribution towards the costs of the part-time solicitor role. This last role is critical in enabling us to develop the service and to reach out to more people in the community to meet existing demand. It is essential that we increase our capacity to help meet this need – there is nowhere else in this region for people to turn to for help.
Costs for year one: Solicitor £15,376 Clinic Co-ordinator £18,812 Licenses, fees, membership £1,500 Office supplies £3,000 Non library publications £500 Photocopying/ printing £300 Insurance £1,000 TOTAL £40,488
The project needs just over £40,000 to run every year  - we now need another £22,000 to be able to run the clinic this year.
If the project is really successful and we exceed our target, the funding will be spent on phase two activities of this developing programme.
Find us here
WEBSITE http://socialsciences.exeter.ac.uk/law/communitylawclinic/
TWITTER @ExeterLawClinic
Help us succeed!
Please donate if you can. Every £1, £5, £10 can really make a difference to this project. And please share this page with your friends and family. The more we can spread the word, the more able we are to help people who are at the point of becoming homeless or about to lose their job.
Thank you!
The University of Exeter is an exempt charity - number X9538