with your help, research at the university of exeter can revolutionise the prevention, diagnosis and treatment of cancer.
Cancer matters to us all. 1 in 2 people in the UK will get cancer yet our country's diagnosis times lag behind many others across the world. A shocking 90% of people eventually diagnosed with cancer see their GPs a year before with symptoms. And the longer someone has to wait for diagnosis, the worse their chances of survival.
In fact, 100,000 people needlessly die from cancer in the UK each year, mainly due to late diagnosis.
the pandemic has made the wait for diagnosis even longer - but exeter can change this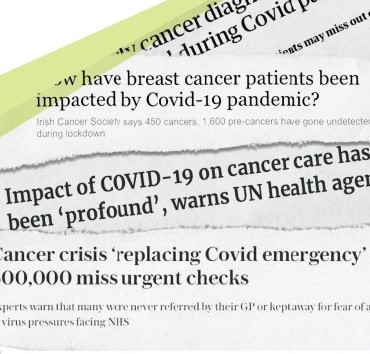 COVID-19 has made the situation in the UK even more urgent for people with cancer:
- During 2020 there were at least 50,000 'missing diagnoses'
- The cancer treatment of 650,000 people has been disrupted
- 90,000 people delayed seeking help despite fears their cancer is returning
With your help, research at Exeter can do so much to help people affected by cancer in the UK.
Imagine if you went to your GP with worrying symptoms and they had a tool to easily identify if they were high-risk early signs of cancer. Next, rather than being added to a lengthy waiting list, imagine if your GP could offer you a simple test to accurately confirm diagnosis. Then imagine your treatment could be tailored to the exact genetic make-up of your cancer to give you the very best chance of beating it. Or if surgery was the best course of action, if powerful beams of light could be used to see the tumour with far greater accuracy, so all of it could be removed in one procedure.
These are just some of the life-saving innovations being developed at Exeter right now.
Powerful tools, tests and technologies that your donation can help to put in the hands of doctors and GPs to give every person the best chance of beating cancer.
HEAR FROM ONE OF OUR RESEARCHERS
Cancer researcher Dr. Tanimola Martins talks about his work in this fascinating interview for our Alumni Matters series. Dr. Martins graduated in 2014 with a PhD in Ethnic inequality in Cancer Diagnosis, and currently works as a Research Fellow and Lecturer in Postgraduate Education at the University of Exeter Medical School.
EVERY DONATION COUNTS
Donations large and small help fund everything from the state of the art equipment we need to sequence DNA and the brilliant researchers who run clinical trials, to the chemicals needed to develop diagnostic tests.
Please give a gift today and help us continue to make life-saving advances in cancer research.