Supporting Primary Care Across the World
The COVID-19 pandemic has highlighted the critical importance of primary care in delivering effective community health services, accessible to all. Doctors, nurses, midwives, pharmacists and other trained health workers deliver testing and vaccination programmes, provide first-line care for people in their communities alongside aftercare for those hospitalised, and support families who have lost loved ones. 
Primary care is recognised as the most effective form of healthcare in the world and the WHO sees it as the best vehicle through which to deliver health for all, especially in low- and middle-income countries with poor access to health services. In these areas healthcare workers need a clear understanding of primary care and how to deliver it most effectively, and access to expert training and support.
The University of Exeter is a globally recognised leader in research and teaching in Primary Care and has responded to this need by developing a unique, online course: Principles of Primary Care International CPD. Led by Professor Alex Harding, (Family Practitioner, Co-Chair of UK Heads of Teachers and advisor to WHO Education Group) and a group of internationally recognised primary care practitioners, the focus is on enhancing the skills and expertise of those working in primary care around the world.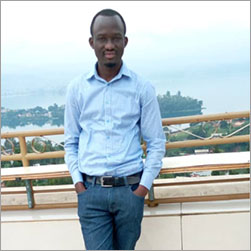 Dr Adam Bitunguramye, a GP based at Munini Hospital, Republic of Rwanda, explains why it is so important for him and his country, "I want to acquire more knowledge and skills in order to be able to improve the health of the population especially in the remote area of Rwanda where infrastructure usually hinders the effective delivery of primary care services including but not limited to poor antenatal care and contribute to increased maternal mortality".
How you can help
Donations to our Scholarship Fund can support a talented GP, nurse or health practitioner from a low- income country to attend an online Exeter course and improve healthcare in their local communities. All the students will join a global network of primary healthcare providers working together to facilitate change and strengthen primary care systems, and the course opens up many options for further study and qualifications in the UK and internationally.
Donations from our generous supporters have already enabled 35 health practitioners from countries like Rwanda and Nepal to benefit from the course, but with your help we can do more. 
One place on the course costs £500. All contributions, whatever their size are welcome as collectively they can be transformational. It is our goal to provide 20 fully-funded places on our next course which will begin in November 2022.
thank you!